Are you looking for a top 10 list of things to do in Whitefish? The cabin may be closed but if you're staying at our sister location, Glacier Bear Condo on Whitefish Mountain, then we have a must-do list of the best activities for you. Of course, Don and I are here to give you any extra recommendations you may need too. But, this is a great summary to start with if you're coming to the  h
1) SPEND THE DAY ON WHITEFISH MOUNTAIN
If you're staying at Glacier Bear Condo,  you're already in an excellent launching point! First, Big Mountain has been welcoming skiers for 75 years. You couldn't ask to choose a sweet alpine spot with trails bordered by vivid wildflowers, huckleberries, as well as interested mountain critters, right?
Second, if you didn't know, the elevation of Whitefish, Montana, is just over 3,000 feet.  Just so you know, many of our guests who have been in Colorado say Whitefish is much easier to adjust.
Third, you can begin your summer (or winter day) on Whitefish Mountain by riding a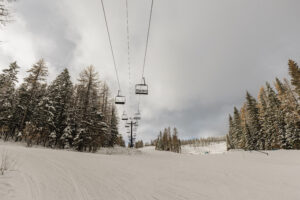 chairlift or the gondola.  This is always one of our favorite events, especially in the summer. You'll be treated to stunning sights above and below you of Glacier and the Flathead Valley. And, you will certainly see Montana's large blue skies shown in the crystal waters of glacier-cut lakes. Certainly, the pristine colors will beckon you to explore even more. What are you waiting for?
Be aware, during the summer months, the gondolas are very hot inside. We understand some kids may be more comfortable inside a more enclosed cabin. Subsequently, it can be a little like the inside of an easy bake oven for adults.
Are you a mountain biker?  If you are, you can rent bikes at Whitefish Resort or downtown Whitefish too. The chairlifts are fitted with bike racks, so you can bike down the designated trails. Click HERE for Whitefish Resort Bike Rentals or try Glacier Cyclery & Nordic at 326 2nd St E in Whitefish. They'll take good care of you. Ph# 406-862-6446.
In the winter, visit them for a GREAT experience of renting a Fat Tire bike! Seriously, give it whirl. Take home the experience of trying something new. The crew at Glacier Cyclery & Nordic will get you set up with the right gear and give you some great recommendations of where to go! Click HERE for their rental info (skis & bikes)
Moreover, you can just get off at the top and grab at bite at the cafe on the summit. Following that, you can take a leisure stroll around the top, and talk to the Glacier National Park rangers who may be putting on a presentation.
When you're ready, you can hike down, bike or just enjoy the chairlift back down again. The Danny On Trail is the most popular trail. Further, if you're there in August, you'll enjoy looking for and picking huckleberries on your way back down. Sometimes, you'll see quite a few locals with their bags or buckets looking for their tasty prizes.
But, are you looking for something zippier? Never fear, we've got you covered. Besides hiking down, try taking an alpine cart back down to base lodge? It's always a fun little ride down. Kiddos can ride tandem with mom or dad too. Speaking of zippy, you can also enjoy a grand time on the zip lines located near the main lodge. If you need a little fun tubing time, tube slides may be open this year too. After all, you're here to explore and find adventures right? Big Mountain in Whitefish, Montana is waiting with a full day of fun for you.
Click HERE to learn more about Whitefish Resort
2) GLACIER NATIONAL PARK
Obviously, the biggest attraction of the area is a visit to Glacier National Park. The Crown of the Continent welcomes you to drive the Going-to-the-Sun Road. With late snowfall, be sure to check if the road is open. It can open late in July if there's been enough snow.
Don't forget, you will need to get a vehicle reservation for this road.  This is different than the National Park's pass that gets you inside the park. The vehicle reservation system is separate and designed to help with crowds.
Here, inside the park, you'll be amazed at the extraordinary views of mountains, lakes, glaciers, and wildlife. With 700 miles of routes of exploring, hiking including Lake McDonald, Many Glacier, St. Mary, and also Two Medicine, you won't be disappointed in where you go. In the winter months, you can snowshoe on many trails. Find your launching point at Apgar Village.
To view current conditions, please check out Glacier National Park's Webcams by visiting HERE.
For the Park's shuttle schedule and information, click HERE.
3) HIKING & BIKING WHITEFISH TRAILS
With 12 trailheads covering more than 40 beautiful miles of northwestern Montana wild, the Whitefish Path is a great means to experience Whitefish in the summer. Walking, bike, or go through cedar groves, along breathtaking forgets, and to hidden lakes.
Despite your experience, you'll find a path that works for you. If you want to stay near Whitefish, MT we have a few trail recommendations for you:
The Swift Creek Path is a wonderful choice for newbies and households with younger youngsters. The Swift Creek Loop is about 1.3 miles long, or go a little further to Smith Lake for a range of about 2.5 miles. Click HERE for more information. The northwest part of the trailhead is handicapped accessible and stroller friendly for those with smaller children.
Danny On Route: The Danny On Memorial Hiking Trail is among Whitefish's most popular treks. From the resort base to the top, it's 3.8 miles, you can choose to take the breathtaking chairlift to the top.  Then, take the hike down while picking huckleberries as you go. While it's an easy hike, it can also be a little long for very young children. Despite, being relatively easy if you're picking berries, it can take a little longer to get down too.
Beaver Lakes Trailhead:  Off Hwy 93 North, and nearby, Beaver Lakes beckons with its forest access. Besides it's easy access, it's a great trail to enjoy nature.
Big Hill Trailhead:  Located just below Whitefish Mountain Resort, you can explore this trail all year long. The trail gives you access to 5.5 miles of the Whitefish Trail via Haskill Basin. However, in the winter months, you can cross-country ski on the groomed Nordic routes.
Whitefish Valley Lookout is a mid-level trail that is just under 3 miles long. It's noted for its popular short trek and is scenic, but you'll see plenty of people on the route. Granted, it's easy to hike but if you want the quiet of Montana, go early. 
Before you head out to the trails or Glacier National Park, make sure you have bear spray with you and know the bear safety tips but, click HERE for more information on how to handle yourself if you encounter a bear.
Whether you hike Glacier National Park or in nearby Whitefish, make sure you take your gear with you. At Glacier Bear Condo, we have backpacks, hiking poles and bear spray ready for you to take with you.
Click HERE to get a Whitefish Trail Map or
Click HERE for Hiking & Biking Map for Big Mountain.
4) SHOPPING & DINING
Explore the perfect mountain town called Whitefish. Our popular boutiques offer a great  selection for everything you want or need. During your visit, stop by downtown.  While we have shops for hiking and outdoor gear, we also have unique toys shops to bring home special gifts. Or, do you want an edgy new sweater and hat?  Of course, the Whitefish shops have some of the most creative local flair and national outdoor brands to satisfy whatever you need to bring home.
Or, are you looking for a culinary experience? Whitefish has some amazing options for you too. For a morning boost pop into downtown and stop by Montana Coffee Traders, or Loula's Café or Amazing Crepes.
Of course, there are plenty of delicious culinary options for lunch or dinner. Call ahead to Ciao Mambo for an incredible Italian dinner. Additionally, you can saunter into Craggy Range, Piggyback BBQ for traditional American faire or BBQ. Or, do you want great microbrews and unique dishes with a big local kick, then try Bonsai Brewing Project.
MAKE  YOUR  DINING  UNIQUE
For a tempting treasure to spoil yourself, reach out to Black Sheep Dining & Catering. You can either arrange for pre-made meals or bring their expert culinary chefs into Glacier Bear Condo's kitchen to do all the cooking and cleaning up for you. From a 3, 4 or 8 course dinner, they will bring the incredible cuisine to you. This is a MUST to treat yourself. Click HERE to reach out to Chef Tim. Trust me. It's worth make a night truly special.
5) Snowmobiling or ATV RIDEs
For a mountain fun good time and adrenaline rush, try a summer ATV ride or Winter
Snowmobiling ride. Get off the regular path and see the peaks and scenery at a higher altitude. You'll get into the forests and see the beauty of Northwest Montana and views of our pristine mountain ranges. If you're lucky, you may get a great peak at some amazing wildlife.
Click HERE to visit Northwest Montana Adventures. They provide great gear to keep you cozy warm and protected on your journey. Call 406-881-2525 for reservations
6) BROWSE THROUGH FLATHEAD LAKE & BIG FORK 
With nearly 200 square miles of water and 180 miles of coastline, Flathead Lake is a
huge freshwater water adventure. You can drive around the lake, stopping at the small towns like Big Fork or Polson or, visit Montana State Parks along the way too. In the summertime, you can stop at all the Flathead cherry orchards with their roadside fruit stands.
Be sure to leave time in Big Fork for some great food. Their restaurants are definitely worth it, and you'll find the nicest folks to welcome you in for a meal. Click HERE for a list.
Go kayaking, fishing, boating, stand-up paddle boarding, or hiking. Be sure to bring your camera in the winter months and photograph the lake as well as the mountains. Wintertime in this area is simply stunning.  Wild Horse Island is the biggest island in Flathead Lake and is a residence to wild animals as well as, yes, horses. Accessible only using boat, this remote island is wonderful for picnicking, easy hiking and swimming.
Stop by Flathead Lake Winery and get a taste of our local wines and learn how the area is growing some delicious grapes for local wine. Visit HERE for more info or, you can call 406-253-9641 for more information on this Polson gem.
7)

 

Whitefish Farmer's Market
If the lure of local produce, freshly baked products, and handmade things isn't enough,
Whitefish Farmer's Market will welcome you to summer in Montana. The Whitefish Farmer's Market is held on Tuesday evenings between 5:00 pm – 7:30 pm. Open in May through September so come, meet and help sustain our neighborhood farmers, bakers, craftsmens. Go to Whitefish Midtown Farmer's Market at Depot Park and you'll get a real taste of Montana.
8)

 

Whitefish Winter Carnival
The Whitefish Winter Carnival: A celebration of winter, skijoring, a carnival, a penguin plunge, a delicious pie social, king and queen coronation and a great winter carnival
9)

  Under the Big Sky Music Festival
Under the Big Sky Music and Arts Festival: Set on a 350-acre ranch, enjoy live music, great food, and a fun atmosphere. Don't miss out on this great summer event. This year's event will be held July 14th 15th & 16th with headliners Hank Williams Jr and Zach Bryan.
10)

 

HuckleBerry Days 
Huckleberry Days Arts Festival: Do you want to celebrate a berry in grand style? Of course, you do.  This is a grand festival, with over 100 artists and vendors, and located downtown, at Depot Park.
So there you go. That is our 10 top list of things to do in Whitefish, Montana.
Of course, you need great lodging in Whitefish, right?  Are you still looking for a hotel in Whitefish? Of course, the best place is Glacier Bear Condo on Whitefish Mountain. Are we biased, yes but, we also have the best guest reviews on Google, Airbnb and VRBO.