Glacier National Park is one of the most unique and majestic national parks in the United States. Known for its stunning mountain peaks, vast glaciers, and crystal-clear lakes, it's no surprise that hiking in Glacier National Park is a popular activity for visitors.
With over 700 miles of trails, Glacier National Park offers hikers of all skill levels stunning panoramic views and unforgettable experiences. Of course, we'll give you a few of the best hikes to consider during your visit to Glacier National Park. And, we don't want you to forget to book with us to be near all the action, trails and scenery.
Highline Trail
The Highline Trail is a must-do in Glacier National Park, offering some of the most breathtaking views of  the park's peaks and glaciers. And, the trail begins at Logan Pass and follows a 7.6-mile path along the Continental Divide to the Granite Park Chalet. With the rocky cliffs on one side and a drop-off on the other, the Highline Trail provides an exhilarating experience for hikers.
Another popular hike in Glacier National Park is the Grinnell Glacier Trail. This moderate trail is an 11-mile  round trip and takes you through alpine meadows, past waterfalls, and finally to Grinnell Glacier. Plus, the views along are stunning and the glacier is a testament to the beauty and power of nature.
The Hidden Lake Trail is an easy route that's perfect for families.  Or, if you're looking for a more leisurely hike give it a try. The trail starts at Logan Pass and is only 1.5 miles each way. Along the way, hikers will see panoramic views of the mountains. Of course, you may spot some wildlife, such as mountain goats and bighorn sheep. In addition, at the end of the trail, hikers will arrive at Hidden Lake. It's a crystal-clear lake surrounded by towering peaks.
Iceberg Lake Trail
The Iceberg Lake Trail is one of the most scenic in Glacier National Park. The trail is a 9.6-mile round
trip. It takes hikers through forests and meadows, past streams and waterfalls, and finally to Iceberg Lake. The lake is surrounded by glaciers and towering peaks, creating a picturesque scene that is unforgettable.
Overall, Glacier National Park is an experience like no other. And, with trails for all skill levels and exceptional views, it's no wonder so many visitors choose to come here. Whether you're an experienced hiker or just starting out, Glacier National Park has something for everyone to enjoy. In addition to hiking, don't forget to explore the biking trails. We'll list those soon too so you can use our e-bikes or mountain bikes we have on-site for our guests.
Certainly, you don't forget to visit our Glacier Bear Cabin page with direct links to the National Park site of recommendations, events and any closures.  Of course, we can't wait for you to click HERE to visit Glacier Bear Cabin's site.
DO  YOU  NEED  A  GREAT PLACE
TO STAY  IN WHITEFISH, MONTANA?
You can visit our sister location, Glacier Bear Condo on Whitefish Mountain. Located, in a true slopeside location you are right on the Tenderfoot ski run. You'll love looking out the kitchen window in the newer construction building and see the ski lift close enough to wave to your family or friends.  And, when we say ski-in ski-out, we mean it! See the pictures!  This mountain modern chalet is a 2 bedroom, 2.5 bath with a private deck and private hot tub. Of course, you'll love the large, open floorplan has all the kitchen amenities you need to cook or use the private grill. The wraparound deck with dining is a great way to enjoy a meal when the weather beckons you.
As a bonus, Glacier Bear Condo is located about 12 minutes from downtown Whitefish, 45 minutes to Glacier
National Park, 45 minutes to Bigfork or Flathead Lake and just 20 minutes to Kalispell.  So, it's an ideal launching point for your vacation. And, there are king beds in each bedroom with a cool built-in bunk for the kiddos in 2nd bedroom.  And, twinkling lights for the top bunker are included!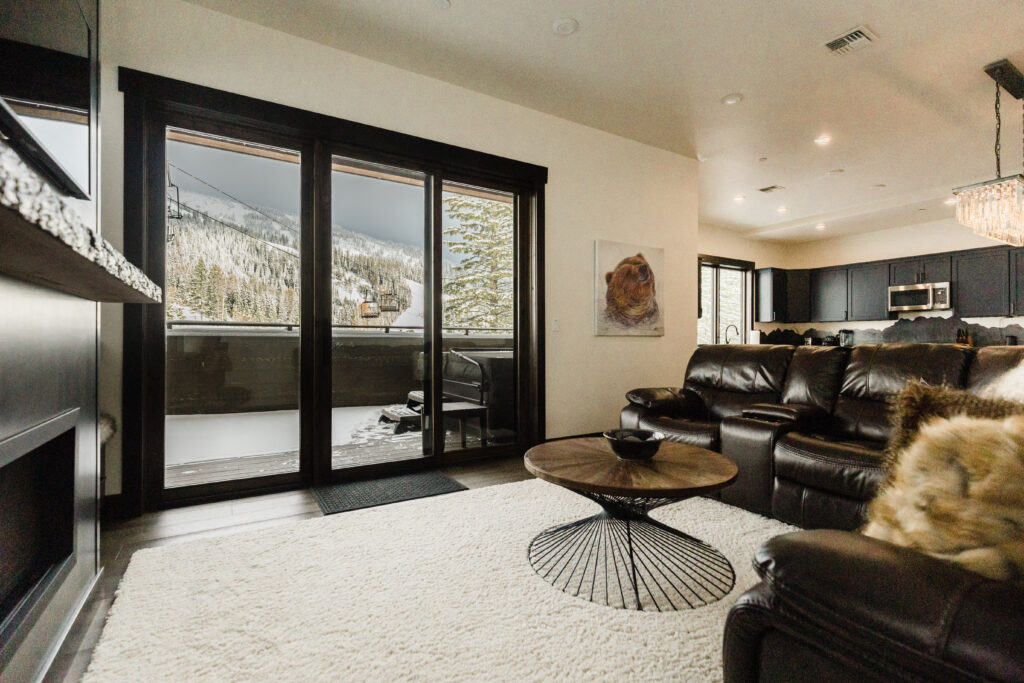 Click HERE for more info on the accommodations and photos.
Of course, you can choose one location or both! **Yes, discounts are available if you want to stay at both properties**