Glacier National Park, located in the picturesque state of Montana, offers a chance to connect with nature and immerse yourself in its untouched beauty. As you plan your stay in this remarkable national park, consider the unique experience of staying at West Glacier Bear Cabin.
Tucked away around the corner from Lake McDonald, you'll love the location. Here, this cozy cabin provides the perfect retreat for an unforgettable adventure. And, we will explore the reasons why West Glacier Bear Cabin is the ideal place to stay during your visit to Glacier National Park.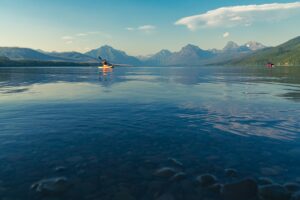 1. Immersive Nature Experience:
West Glacier Bear Cabin provides the opportunity to fully immerse yourself in the tranquil beauty of Glacier National Park. And, the glistening beauty of Lake McDonald is right around the corner. Here, you'll find we offer a true escape from the hustle and bustle of everyday life. Wake up to the sounds of chirping birds and grab the on-site kayaks for a morning paddle. Actually, you can hear the park waking up on the quiet ripples of the Lake. Or, take a morning stroll and breathe in the fresh mountain air. Here, you can also witness stunning sunset from so many areas and enjoy the spectacular colors.
2. Proximity to Park Attractions:
Staying at West Glacier Bear Cabin places you within close proximity to the park's most iconic attractions. You'll have easy access to hiking trails that wind through pristine scenery, glacier-carved valleys, and beautiful forests. And, whether you're embarking on a scenic day hike to Hidden Lake or venturing into the backcountry to explore the beauty of Grinnell Glacier, the cabin serves as a perfect starting point for your adventures. And, you'll have access to the Going to the Sun Road when you stay with us (and, when it's open for the season). We will give you access information upon your arrival.
3. Cozy and Rustic Accommodations:
West Glacier Bear Cabin offers a cozy and rustic retreat, allowing you to experience the charm of a traditional Park cabin. You can enjoy making s'mores in the fire pit on our renown blue chairs. Enjoy playing games and eating ice cream on the screened in porch.  The cabin provides the perfect balance of simplicity and comfort, ensuring a peaceful and relaxing stay amidst nature's embrace.
4. Wildlife Spotting:
Glacier National Park is renowned for its abundant wildlife. And, staying at West Glacier Bear Cabin you're close to the trails and the road.  Thus, you're increasing your chances of spotting so much wildlife when you're already nearby!  Remember, you may have the opportunity to observe deer, elk, bighorn sheep, and even bears in their natural habitats.
5. Nighttime Spectacles:
One of the benefits of staying in West Glacier Bear Cabin is the opportunity to witness the nighttime
splendors of Glacier National Park. Actually, being away from city lights, the cabin offers unparalleled stargazing opportunities. And, on a clear night, you can walk to Lake McDonald and marvel at a sky. Here, you can see countless of stars and maybe even the aurora. In fact, you can enjoy trying out your nighttime photography skills.
6. Privacy and Seclusion:
West Glacier Bear Cabin provides a sense of privacy and seclusion. Here, you can unwind and recharge in a serene environment.  And, you can create lasting memories away from the distractions of everyday life. Of course, when you choose to stay at West Glacier Bear Cabin in Glacier National Park we offer an extraordinary experience with lots of extras. In fact, the 3 kayaks, 2 stand-up paddle boards, 2 e-bikes and mountain bikes allow you to create the adventure you want. And, when you want.
Indeed, we allow you to fully appreciate the Park's natural wonders. From immersing yourself in nature's beauty to enjoying cozy accommodations.  And, don't forget potential wildlife encounters in the Park.  Actually, West Glacier Bear Cabin is an ideal base for experiencing the park's magic. Of course, unforgettable memories await you at this charming retreat.  In fact, we know you'll enjoy a truly remarkable stay in Glacier National Park.
DO  YOU  NEED  A  GREAT PLACE
TO STAY  IN WHITEFISH, MONTANA?
You can visit our sister location, Glacier Bear Condo on Whitefish Mountain. Yes, we are a TRUE SLOPESIDE location where you are right on the Tenderfoot ski run. Of course, you'll love looking out the kitchen window in the newer construction building and see the ski lift. In fact, you are close enough to wave hello to your family or friends.  And, when we say ski-in ski-out, we mean it!  As a matter of fact, just take a look at these pictures!
This mountain modern chalet is a 2 bedroom, 2.5 bath with a private deck and private hot tub. Of course, you'll love the large, open floorplan has all the kitchen amenities you need to cook or use the private grill. And, the wraparound deck with dining is a great way to enjoy a meal when the weather beckons you.
As a bonus, Glacier Bear Condo is located about 12 minutes from downtown Whitefish, 45 minutes to Glacier National Park. And, it's just 45 minutes to Bigfork or Flathead Lake and just 20 minutes to Kalispell.  So, it's an ideal launching point for your vacation. And, there are king beds in each bedroom with a cool built-in bunk for the kiddos in 2nd bedroom.  Additionally, there are adorable twinkling lights for the top bunker are included!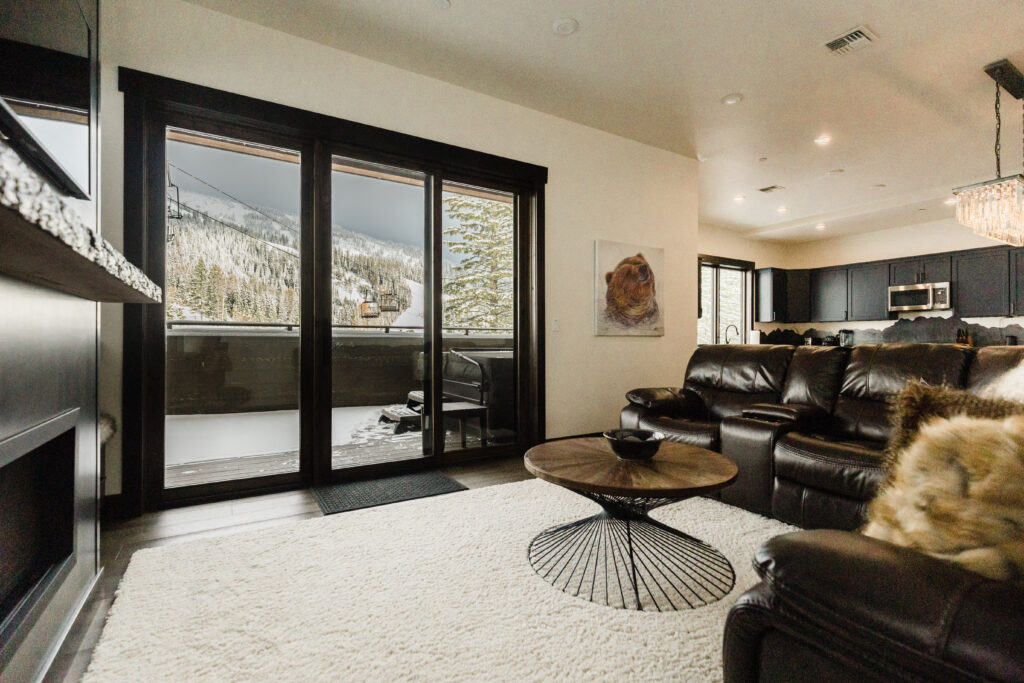 So, click HERE for more info on the accommodations and photos.
Of course, you can choose one location or both! **Yes, discounts are available if you want to stay at both properties**