When you need the best lodging option inside Glacier National Park, choose to stay close to Lake McDonald in Apgar Village. Glacier Bear Cabin is located close the biking, hiking trails and within a 5 minute walk to Lake McDonald. Where, you'll have our kayaks and paddle boards to enjoy anytime you want.
Glacier National Park is located in Montana, USA. The park was established on March 1, 1910 by President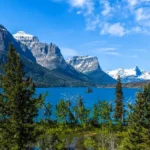 William Howard Taft. It covers an area of 2,237 square miles (5,945 km2) and is home to many glaciers, lakes, mountains, and wildlife.
When you have all this, why not choose a great location where all of that is basically your backyard?  You can wake up daily to Lake McDonald being a short stroll away where you can sit and listen to the water gently lapping up on shore while you have your morning coffee, greeting ducks as they paddle by. Or, head in for a hike and maybe catch a vision of a bear or moose in the distance.
We're here to help make that decision easy. If you're looking for a hotel to stay while visiting Glacier National Park, then consider staying at Glacier Bear Cabin. We are located near Lake McDonald and offer our
guests a chance to kayak, paddleboard, mountain bike or try out e-bikes without having to pay extra to rent or schedule with outfitters. They're all included in your stay and they are on-site.
At Glacier Bear Cabin, we focus on your experience, your adventure and what you will need when they come to Glacier National Park. We know your here to fill your senses with an experience you want to last long after you get home. We get it! That's why you'll have full use of 3 kayaks , 2 paddleboards, 2 mountain bike and 2 e-bikes – all on-site to use anytime it fits YOUR schedule (and the weather's!)
So if you wake up and want to go for a little paddling at dawn, you got it. Do you want to take a little bike ride then grab an ice cream cone from Eddie's, you can do it. You make your adventure schedule.
It's all about what you want to experience on YOUR vacation. We're just here to support you with the extras on-site to use anytime during your stay.
As you may be making plans for your 2023 trip, remember, your stay with us includes access to the Going To The Sun Road anytime during your stay. We'll give you access information just prior to your arrival. But you won't have to worry about any vehicle reservation in the time ahead – if they have. At Glacier Bear Cabin, we've got your back! You just need to get a park pass to get in the Park.
And don't forget to book your 2023 Summer trip soon!
If you need a place closer to Whitefish, be sure to check out our sister location Glacier Bear Condo located on Whitefish Mountain. Open Year 'Round for Montana Fun Anytime of Year!