One of the biggest summer complaints is the lack of rental cars during the peak summer period. Well, it's true and you HAVE to make your car reservations early for late June – early August. We cannot stress this enough. Some folks have resorted to renting a u-haul. Others fly into Bozeman or another town and take a very scenic drive to get here.
A couple options we will tell you about if you have no luck.
Turo – Think of it as the airbnb for cars. You're renting someone's car. It's a really nice feature, we've heard
very nice things about the Whitefish and Kalispell renters. And, we know their prices are much much better than those at the airport.  Thankfully, the airport is expanding. Consequently, this means more cars too. But, we would highly recommend you check out Turo. Mind you, they book up too so plan ahead. We cannot stress this enough.
Use a local shuttle. Whitefish Tours & Shuttle is a great option for small to bigger groups of 1-10. They use Subarus, GMCs and vans so you'll find them comfortable and affordable. 
Plus, they can take you anywhere from airport shuttles to your hotel, wedding parties, up to Big Mountain (including our sister location – Glacier Bear Condo) and into Glacier National Park to stay with us at Apgar. They can drop you off at Lake MacDonald at Apgar Village and pick you up there again. Have bikes? They'll take those in for you too! 
If you'd rather kick back and let the guides do the work – and we don't blame you – take advantage of their scenic driving tour. You can sit back and let their drivers show it all to you so you can focus on the beauty that is Glacier National Park. Whether it's a trip to Pole Bridge, East Glacier and Two Medicine or even to Flathead Lake, the choice is yours. See their trip schedules for Glacier at Whitefish Tours & Shuttle.
Also, Whitefish Outfitters can set you up with great gear and bikes to really experience Glacier National Park. Even before the Park fully opens for the summer season, their team will give some great options so you can have a memorable time. 
Give them a call at (406) 212-0080 or visit their website by clicking HERE
DO  YOU  NEED  A  GREAT PLACE
TO STAY  IN WHITEFISH, MONTANA?
You can visit our sister location, Glacier Bear Condo on Whitefish Mountain. Located, in a true slopeside location you are right on the Tenderfoot ski run. You'll love looking out the kitchen window in the newer construction building and see the ski lift close enough to wave to your family or friends.  And, when we say ski-in ski-out, we mean it! See the pictures!  This mountain modern chalet is a 2 bedroom, 2.5 bath with a private deck and private hot tub. Of course, you'll love the large, open floorplan has all the kitchen amenities you need to cook or use the private grill. The wraparound deck with dining is a great way to enjoy a meal when the weather beckons you.
As a bonus, Glacier Bear Condo is located about 12 minutes from downtown Whitefish, 45 minutes to Glacier
National Park, 45 minutes to Bigfork or Flathead Lake and just 20 minutes to Kalispell.  So, it's an ideal launching point for your vacation. And, there are king beds in each bedroom with a cool built-in bunk for the kiddos in 2nd bedroom.  And, twinkling lights for the top bunker are included!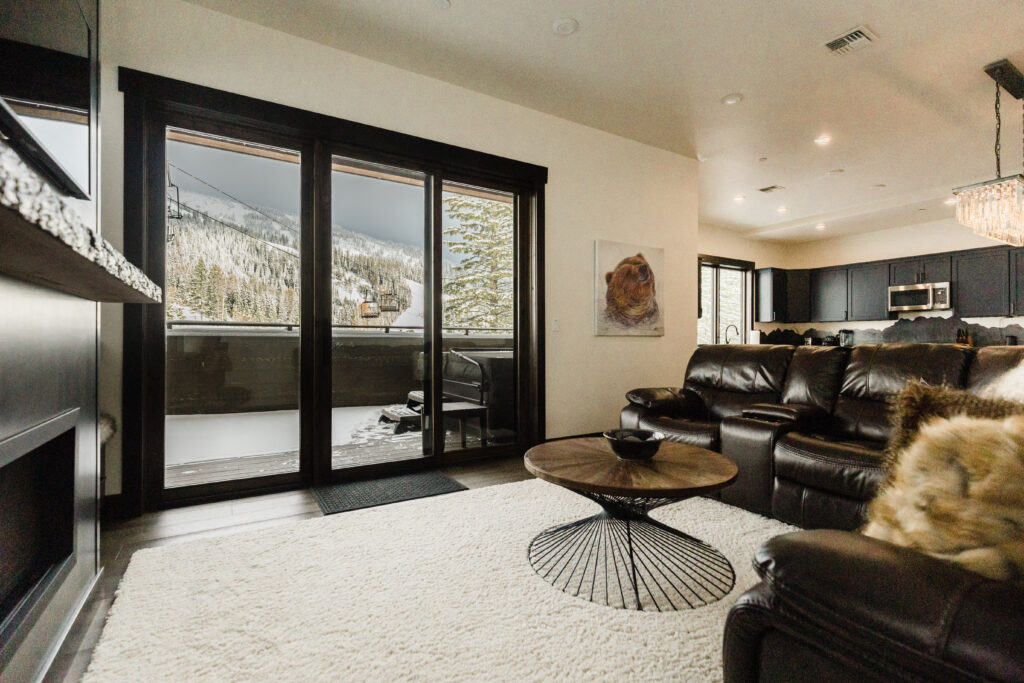 Click HERE for more info on the accommodations and photos.
Of course, you can choose one location or both! **Yes, discounts are available if you want to stay at both properties**