Two Big Tips for Your Montana Vacation 
Book your 2023 dates today AND Reserve Your Fall Colors Trip
First, we are getting reservations for next summer so you have specific dates you want or need, book them now if you're planning a trip to Glacier National Park.
When you stay with us, you get a few BIG perks:
Glacier Bear Cabin is located INSIDE Glacier National Park at Apgar Village. Lake McDonald is a short walk away and you have unlimited and complete access to the Going To The Sun Road during your stay. Of course, you do not need to worry about the vehicle reservation system. You will just need a park pass to get inside the gate. That's it. We'll give you GTTSR access information upon your reservation arrival.
Second, we have 2 e-bikes, 2 mountain bikes, 3 kayaks and 2 paddleboards on-site and for guests to use anytime
during your stay.  And, you do not have to rent or schedule anything more.  Do you want to go for an early ride? Go for it. How about a sunset paddle on Lake McDonald? You're a 3 minute's walk away. It doesn't get any better!
Also,, we have backpacks, day packs, bear spray, and hiking poles always available for your use too.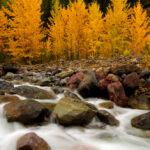 Our second tip…come see us this Fall! 
As a matter of fact, Montana's secret season starts at the end of August and runs through October. Further, you can come, avoid the crowds and relish in the hiking or biking paths with more time to enjoy the Park's peak colors. 
And, you can go biking on the Going To The Sun Road up to Logan's pass, weather permitting. And, you can soak in the last of the summer warmth or put on the cozy sweaters and sit by the many glacier lakes and hope it's the night for the Northern Lights. (There are apps that forecast and will send you alerts).  
The northwest area is yours to explore if you want to venture further out. What's more, you can enjoy Llama hikes on Swan Mountain, Alpine carts on Whitefish Mountain to the beauty of Flathead Lake. In fact, you don't have to stay in the Park. Actually, you don't have to leave either. Your Fall Montana adventure is just waiting for you. 
Can we do anything to make your visit special? Is there an event you need some behind the scenes planning? A potential engagement perhaps? An anniversary? Of course, we want your Montana vacation to be memorable. Please feel free to reach out to us to answer any questions you may have.