Glacier National Park, located in the captivating state of Montana, is a haven for outdoor enthusiasts and nature lovers. While it's widely visited during the summer months, the park holds a captivating charm and serenity during the winter season. In this blog post, we invite you to explore the winter wonderland that awaits in Glacier National Park. And, we'll showcase its unique beauty and the experiences you can indulge in.
1. Tranquility and Solitude:
In winter, Glacier National Park transforms into a tranquil haven. Of course, with fewer visitors and a serene atmosphere the peaceful beauty will soak into your soul.  Moreover, the vast snowy landscapes offers a sense of tranquility, allowing you to connect with nature in a peaceful setting.  And, as you explore the park, you'll feel like you have the entire place to yourself.  Actually, you can create a truly immersive and intimate experience.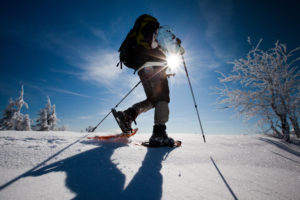 2. Majestic Winter Scenery:
Glacier National Park is renowned for its breathtaking scenery. What's more,  winter accentuates its beauty even further.  In fact, the blanketed in snow, the rugged mountains, frozen waterfalls, and crystal-clear lakes create a picturesque winter wonderland. What's more, the snow-covered pine trees and frozen alpine meadows add a touch of magic. Additionally,  the already stunning landscape, make it an ideal location for photographers and nature enthusiasts.
3. Wildlife Encounters:
Winter in Glacier National Park offers a unique opportunity for wildlife encounters.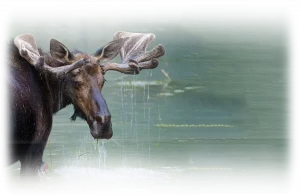 Additionally, the park is home to various animals, including elk, moose, bighorn sheep, mountain goats, and even elusive creatures like lynx. And, as vegetation becomes scarcer in winter, wildlife is more active and visible.  This increases your chances of spotting these incredible creatures in their natural habitat.
4. Winter Activities:
Glacier National Park offers a plethora of activities for winter enthusiasts. Cross-country skiing and snowshoeing are popular ways to explore the park's scenic trails. In fact, it will allow you to venture deeper into the wilderness and access sites that are inaccessible in the summer. In fact, guided snowshoe tours are available for those seeking a more informative experience.
And, if you're an avid photographer, the park's winter landscapes provide endless opportunities to capture stunning shots. Alternatively, winter photography workshops are offered by experienced guides who can help you hone your skills. And, they can teach you how to really showcase the Park's beauty through your lens.
5. Winter Wildlife Tours:
Joining a winter tour led by knowledgeable guides can improve your chance of spotting wildlife. And, these tours provide expert insights into the park's ecosystem. And, you can observe animal behavior in their natural habitats.
6. A Winter Wonderland for Adventure Seekers:
If you seek thrills and adventure, Glacier National Park have plenty to offer even in winter. And, nearby, you can try a sled dog tour.  Or, even fat tire biking. Actually, guides can help you if you want to try ice climbing too. Of course, there are so many various activities you can try in this area. Winter is a time for adventure or tranquility.  And, the choice is yours.
Glacier National Park's winter beauty is a sight to behold.  What's more, with its serene landscapes, abundant wildlife, and a range of winter activities, the park offers a memorable experience for all who venture into its winter wonderland. So, whether you're seeking solitude, photography opportunities, or thrilling adventures, Glacier National Park has it all.  In fact, we are now open for winter! So, you can embrace the magic of winter and immerse yourself in the captivating beauty that awaits in this majestic national park.
DO  YOU  NEED  A  GREAT PLACE
TO STAY  IN WHITEFISH, MONTANA?
You can visit our sister location, Glacier Bear Condo on Whitefish Mountain. Located, in a true slopeside location, you are right on the Tenderfoot ski run. You'll love looking out the kitchen window in the newer construction building and see the ski lift close enough to wave to your family or friends.  And, when we say ski-in ski-out, we mean it! See the pictures!  This mountain modern chalet is a 2 bedroom, 2.5 bath with a private deck and private hot tub. Of course, you'll love the large, open floorplan has all the kitchen amenities you need to cook or use the private grill. The wraparound deck with dining is a great way to enjoy a meal when the weather beckons you.
As a bonus, Glacier Bear Condo is located about 12 minutes from downtown Whitefish, 45 minutes to Glacier National Park, 45 minutes to Bigfork or Flathead Lake and just 20 minutes to Kalispell.  So, it's an ideal launching point for your vacation. And, there are king beds in each bedroom with a cool built-in bunk for the kiddos in 2nd bedroom.  And, twinkling lights for the top bunker are included!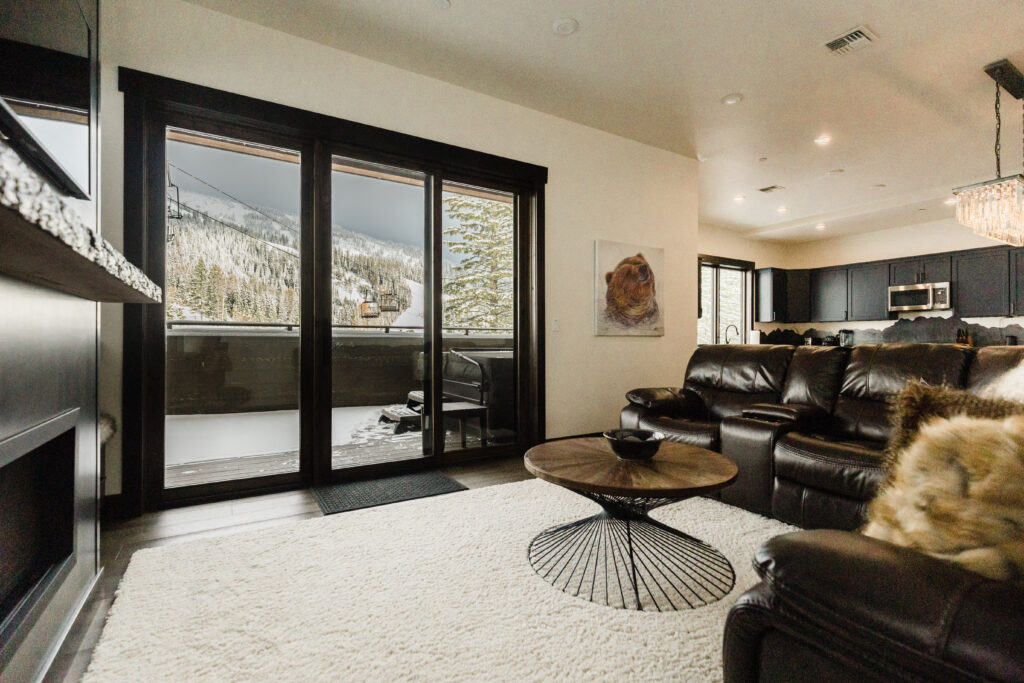 So, click HERE for more info on the accommodations and photos.
Of course, you can choose one location or both! **Yes, discounts are available if you want to stay at both properties**