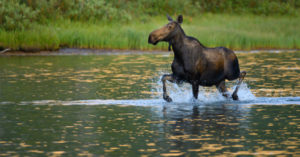 Are you hoping to see wildlife on your visit to Glacier National Park? Of course you do! It wouldn't be a Glacier vacation without seeing beautiful creatures. You want to see them in their element and doing what they normally do…be majestic, be eating, being adorable or being intimidating.  (Keep your distance!) 
As you know, Glacier is known for its wildlife – the flora, the fauna and the big mammals that dot the mountainsides.  Whether you're hoping to see bear, moose, wolves, coyotes, goats or sheep, you must first remember to respect them.  Make sure you give them their space and keep your distance! Let's just get the big reminder out of the way first. These are wild animals and their behavior is unpredictable. Never approach, never feed.  
So where can you see them? Most of the time your best opportunities will be in the morning or early evening as the crowds have passed.  It's not to say, you won't have a big moose eating a few yards off the road so keep your eyes open. Remember, if you're reading your phone all the time, your chance of seeing any animals is pretty much zero so keep your head up and on the lookout.
Consider, Many Glacier is a keen spot for bear viewing.  Grinnell Point at Josephine Lake offers some good opportunities. Also, check out Ptarmigan Lake. Take your binoculars and keep your distance of any bear and moose. And do not forget to make noise so bears know you are in the area. 
But, if you're antsy to see Moose, heads towards Red Rock Lake or Fishercap Lake near Swiftcurrent Motor Inn and you may be in really good luck.  Also, scan the waters carefully, a broad brown back may suddenly move. Additionally, moose have been regularly spotted in these areas.
Remember, if you head more towards the east side of the park, a lesser known location that might give you a moose viewing treat would be the Many Glacier Valley. Here, you'll find fewer crowds and access to some really great hiking trails. Maybe it will yield a great chance to see some wildlife in Glacier National Park. But, when you stay with us, be sure to check out our Hiking Journal for tips and suggestions from our guests.