Embarking on a hiking adventure in Glacier National Park can be a thrilling and rewarding experience. The serene beauty of nature, majestic views, and the challenge of conquering new heights make it an unforgettable journey. However, proper preparation and having the right gear are crucial. In this Glacier travel blog post, we will discuss the essential items to take with you on your mountain hiking expedition.
1. Hiking Boots or Shoes:
Of course, footwear is a vital consideration for any hiking trip. And, when it comes to mountains, a good pair of hiking boots or shoes is a must-have. Definitely, make sure they are comfortable, sturdy, and have proper ankle support. Look for boots or shoes that offer traction and are waterproof or water-resistant to keep your feet dry especially during sudden weather changes or creek crossings. Additionally, if you need better shoes, shop local and visit with the educated folks at Sportsman & Ski Haus. And, with locations in Whitefish and a larger store in Kalispell, you'll find good shoes for the plans you have.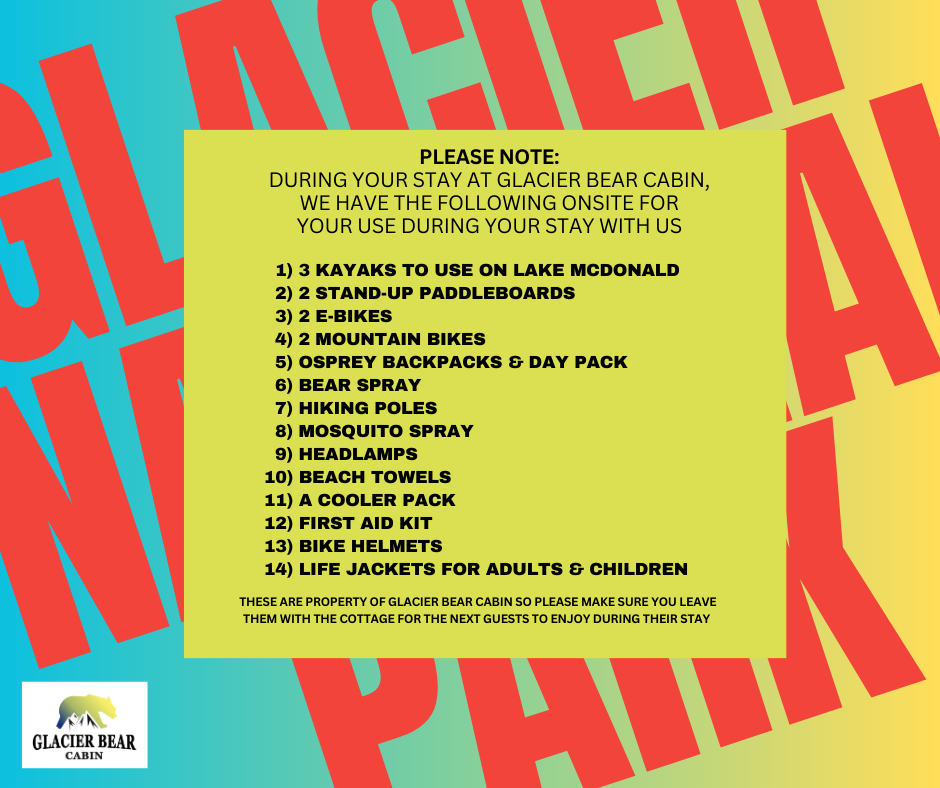 2. Backpack:
Invest in a well-fitting backpack that can comfortably hold all your hiking essentials. Of course, you can opt for one with adjustable straps, multiple compartments, and external attachments for carrying hiking poles or other equipment. Remember, it's important to pack smartly and distribute the weight evenly throughout the bag. This increases balance and stability.
3. Navigation Tools:
When hiking in the mountains, especially areas you are not familiar with, have reliable navigation tools. Of course, the park offers maps. But, it's always good to have a GPS device or smartphone app. These tools will help you stay on track and avoid getting lost in unfamiliar terrain. Most importantly, plan your route first!  Not only does the help give you guidance and time-frame, it gives you insight as to water and food you need to bring. Never go out without knowing where you're going.
4. Clothing Layers:
As you may not know, weather in the mountains can be unpredictable. So, it's very essential to dress in layers. (In fact, that's a bonus for having a good backpack!)  Start with a moisture-wicking base layer, followed by an insulating middle layer, and finish with a waterproof and breathable outer layer. This layering system allows you to adjust your clothing throughout the hike, helping you stay comfortable and dry.
5. Food and Water:
Hiking in the mountains can be physically demanding, and you'll need to stay hydrated and nourished. Make sure to carry enough water, snacks, and meals to sustain your energy levels throughout the hike. Portable water filters or water purifying tablets are also useful in case you need to collect water from natural sources.
6. First Aid Kit:
Accidents can happen, so it's crucial to have a well-stocked first aid kit. Include bandages, antiseptic ointment, pain relievers, blister pads, and any specific medications you may require. Additionally, consider taking a basic guide on wilderness first aid for emergencies. We do have first-aid kit in the cabin,
7. Protection against Elements:
Sun protection is essential when hiking in mountainous regions. Carry a broad-spectrum sunscreen with a high SPF, a wide-brimmed hat, sunglasses, and lip balm. It's also advisable to pack insect repellent, especially if you are hiking during the summer months when bugs are more prevalent.
8. Emergency Gear:
Prepare for any unforeseen circumstances by packing essential emergency gear. This may include a whistle, a headlamp or flashlight, extra batteries, a multi-tool, a signaling mirror, and an emergency blanket. These items can prove to be lifesavers in case of an unexpected overnight stay on the mountain. If you are heading into Glacier for longer overnight hikes, make sure you have all these extras with you.
Conclusion:
To ensure an enjoyable and safe hiking experience in the mountains, having the right gear is pivotal. Remember to invest in quality equipment and take the time to know how to use it properly. Preparedness and being mindful of your surroundings in Glacier National Park will allow you to fully immerse yourself in the wonders of the mountains while minimizing any potential risks. So, gear up, take on the challenge, and soak in the awe-inspiring beauty of nature on your next mountain hiking adventure!
Don't forget, when you stay with us, you will have access to the Going To The Sun Road. You will only need a PARK pass inside GNP. We will give you access information just prior to your arrival.
Certainly, you don't forget to visit our Glacier Bear Cabin page with direct links to the National Park site of recommendations, events, and trail or road closures.
**An important note: we take cleanliness very seriously. We use professional cleaners in between each guests departure and arrival. We provide our guests with the direct phone number to our local property manager to ensure confidence, comfort and cleanliness at both of our locations.
And, if you're ready to book your stay with us at Apgar Village, around the corner from Lake McDonald or learn more about our great little cabin, click HERE.
DO YOU NEED A PLACE NEAR WHITEFISH INSTEAD?
VISIT OUR SISTER LOCATION ON WHITEFISH MOUNTAIN – GLACIER BEAR CONDO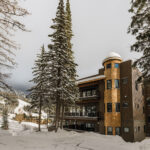 Remember, we have a stunning 2 bedroom, 2.5 bath condo located on Whitefish Mountain if
you need a location closer town – or bigger.  Only, 10 minutes from downtown and a scenic 45 minute drive to Glacier National Park, it's a great place to stay in Whitefish! And, it's about 45 minutes to Big Fork and Flathead Lake. Of course, there are lots of fun activities on Whitefish Mountain during the summer like ziplining, alpine carts, hiking, mountain biking and riding the chair lift. If you'd like to learn more about Glacier Bear Condo, click HERE or visit https://GlacierBearCondo.com