If you're looking for a serene getaway that offers incredible amenities and a glimpse into the beauty of nature, renting a cabin inside Glacier National Park is an excellent option. Here are some things to keep in mind as you plan your trip and choose your rental cabin.
First, consider the location of the cabin. Glacier National Park is vast, so you'll want to choose a cabin that's situated near the attractions and activities that interest you most. That's Us! We're located in Apgar Village.  And, think about whether you want to hike, fish, or simply watch wildlife. Being near the park's famous Going-to-the-Sun Road is also a major plus for easy access to scenic drives and overlooks. That's Us! You have complete access to the Going-to-the-Sun Road anytime it's seasonally open. We'll give you access information 24 hours prior to your arrival when you're a guest a Glacier Bear Cabin.
Second, take a careful look at the amenities offered by the cabin. Most cabins come equipped with
basic necessities like a kitchen, bathroom, and heat, but some may also offer luxury features like a hot tub or fireplace. We may not have a fireplace or hot tub. But, what we have is 3 kayaks, 2 paddle boards, 2 e-bikes and 2 mountain bikes. All of these are located on-site and available for you to use anytime during your stay. Decide what you need to have a comfortable stay and match those needs with your cabin choice.
Finally, research reviews and customer feedback before making a final decision. This will help you get an idea of the experiences of others who have stayed in the cabin. This can also help you avoid any unexpected issues.
Overall, renting a cabin in Glacier National Park can be a fantastic way to slow down. And, you'll definitely appreciate the beauty of nature. With a bit of online research and careful consideration, you can find the perfect cabin for your needs and enjoy a relaxing getaway in the great outdoors. So, are you ready to book Glacier Bear Cabin? Click HERE to view our accommodations and learn more.
DO  YOU  NEED  A  GREAT PLACE
TO STAY  IN WHITEFISH, MONTANA?
You can visit our sister location, Glacier Bear Condo on Whitefish Mountain. Located, in a true slopeside location you are right on the Tenderfoot ski run. You'll love looking out the kitchen window in the newer construction building and see the ski lift close enough to wave to your family or friends.  And, when we say ski-in ski-out, we mean it! See the pictures!  This mountain modern chalet is a 2 bedroom, 2.5 bath with a private deck and private hot tub. Of course, you'll love the large, open floorplan has all the kitchen amenities you need to cook or use the private grill. The wraparound deck with dining is a great way to enjoy a meal when the weather beckons you.
As a bonus, Glacier Bear Condo is located about 12 minutes from downtown Whitefish, 45 minutes to Glacier
National Park, 45 minutes to Bigfork or Flathead Lake and just 20 minutes to Kalispell.  So, it's an ideal launching point for your vacation. And, there are king beds in each bedroom with a cool built-in bunk for the kiddos in 2nd bedroom.  And, twinkling lights for the top bunker are included!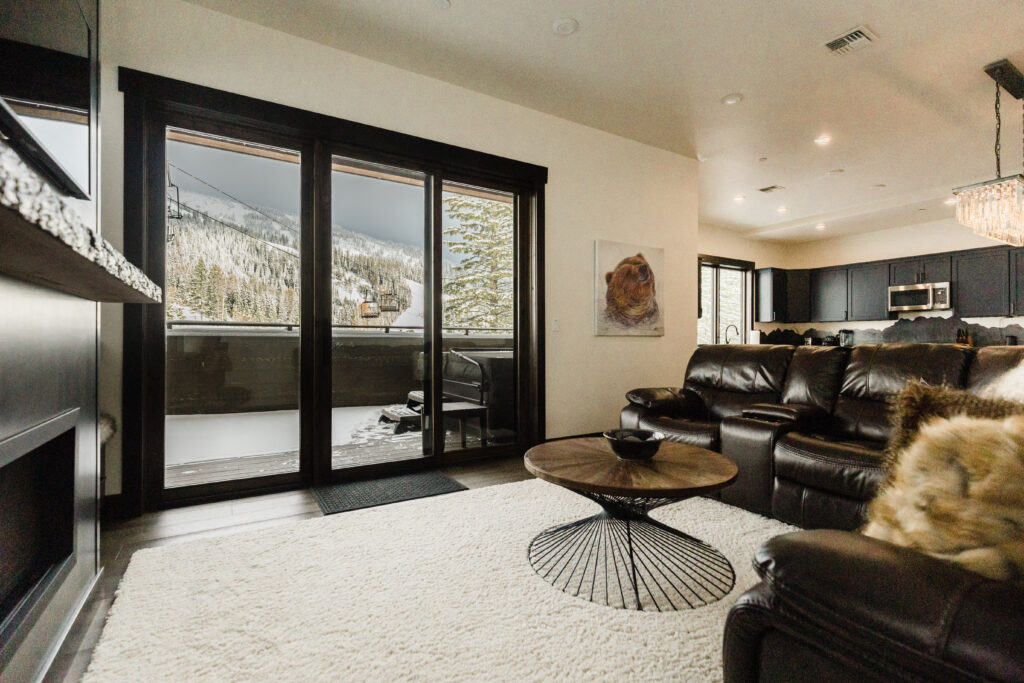 Click HERE for more info on the accommodations and photos.
Of course, you can choose one location or both! **Yes, discounts are available if you want to stay at both properties**