Come, See & Ski In Whitefish
Our sister location on Whitefish Mountain – Glacier Bear Condo is open year 'round and provides an excellent experience for those searching for a slopeside condo to enjoy great skiing or summer fun at Whitefish Resort. Our condo supplies all the comforts of home without compromising the fun of being away on vacation.  By the way, it's also only 45 minutes away from Glacier National Park, so you can visit the park during the beautiful winter season. And, it's a spectacular time to see the Park, if you never have.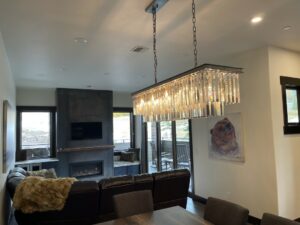 Glacier Bear Condo is a stunning modern-day ski-in ski-out chalet that offers excellent accessibility to whatever Whitefish Mountain needs to provide throughout ski season (or any time of year!).
As you prepare to hit the ski slopes, you'll have a very short stroll to the inclines after getting your skis from our ski storage lockers. When you come back, you'll have your private deck & hot tub to soothe your muscles and relax before or after dinner.
The Whitefish ski period runs December 8th – April 9th with the majority of chairs opening at 9:00 or 9:45 am. But remember, we have free underground heated parking and are slopeside so you don't have to worry about driving to the lifts or finding a parking spot. You only have to worry about dining in or out after skiing and knowing your car will be warm & cozy clean and ready when you need it.
For Lift Tickets and More Information on when the lifts open, visit https://skiwhitefish.com/tickets/.
Do you need personal lessons? We know of some fantastic options for you. And also do not be anxious if you're an adult discovering how to ski. We have actually been there as well and we're simply delighted that you're discovering such a fun sporting activity!
Go here to find out more about Whitefish Ski School https://skiwhitefish.com/lessons. There are private lessons options available too. Their instructors are wonderful (and thankfully, we know first hand they have a great sense of humor) so you'll enjoy group or private lessons.  When we took a private lesson, we got some truly great tips, a great understanding of the mountain, and location of the runs. First time skiers and visitors to the mountain, consider taking advantage of getting a private lesson.
Ski Rental Info
You can rent out snowboards and skis from Whitefish Resort by visiting https://skiwhitefish.com/gear/ or head to their base lodge for more information and get your lift tickets too.
Sportsman Ski Haus provides services in Whitefish or Kalispell with pickup and returns at either location.  You can click on their link to learn more about skis or snowboarding rentals.  https://www.sportsmanskihaus.com/
Do You Want The Skis & Equipment Brought To You?
That's easy!  If you desire all the equipment brought to you, try Black Tie Ski Rental site for their personalized attendant service that delivers to Glacier Bear Condo or they can visit you slopeside too.  Check out their site at https://www.blacktieskis.com/
The lifts will be open in just a few weeks. Are you excited? We are!!  And, we have excellent dates still open for you.  Our new prices and also excellent condo will certainly offer you an extraordinary ski trip. We only have a 3-night minimum so it's perfect for a wonderful getaway!
So when you are looking for a great place that is near Whitefish Mt, we are the chalet for you!
Your stay with us slopeside on Whitefish Mountain is the best lodging to begin your winter play. Our Chalet can host 6 in this 2 bedroom 2.5 bathroom unit.  Our bedrooms each have a King Bed so you'll have a lot of space to spread out. For the kids, our cool bunk in bedroom 2 will certainly offer the top sleeper a view of shimmering and twinkling stars to whisk them off to pleasant dreams. The living room, kitchen and dining room are all open concept. And, we have plenty of amenities to make you comfortable to stay in and cook, play games or kick back with a cup of hot chocolate while watching skiers and snowboarders enjoy the slopes.
Since we're a smaller-sized building of 6 condos so we offer you additional privacy and our personal deck boasts your own hot tub as well as outside eating for 6 with a grill.  We have cozy heated underground parking included in your stay so you don't need to stress about where to park and how far to walk. We've got you covered – literally!
If you need an additional unit for family or friends, we have a great relationship with a couple other condo owners and would be happy to help direct you to their rentals too so you can be as close as next door or on another floor.
Book Direct and Save On Lodging In Whitefish MT
Glacier Bear Condo is listed on Airbnb, Whitefish Booking.com and VRBO Whitefish, Montana. Obviously, we have our own site here which can save you from those pesky additional fees or commissions the third-party sites like to charge. But you can see our great reviews there and come back and book direct. Whatever makes you the most comfortable. But when you book direct, you can sometimes save up to 15%.
We have a local property manager who is available to answer any questions when you stay here.  Don and I are here to help answer any inquiries too. We always enjoyed our family and friends vacations as we each grew up. We want your time in Whitefish to be memorable and fun too. So please feel free to call us at (406) 233-9600 if you have any questions about Glacier Bear Condo.
We are about a 45 minute drive to Glacier National Park which is simply stunning in the winter! We are about 20 minutes to Kalispell and 15 minutes down the mountain to Whitefish shops and great dining. If you want to come back in the Summer, we welcome you to do! We are open year 'round and the mountain offers some fantastic fun during the warmer months too.  We have backpacks, hiking poles, bear spray and day packs inside the condo for your use. 
Our Glacier National Park Cabin Rental
If you'd rather stay inside Glacier National Park during the summer, stay here at West Glacier Bear Cabin. The cabin is a cozy 2 bedroom, 1 bath cabin. It's located 2 doors down from Eddie's Cafe and about a 4 minute walk to Lake McDonald.  It includes the use of our 3 on-site kayaks, 2 stand-up paddleboards, 2 e-bikes, and 2 mountain bikes. It has easy access to biking and hiking trails, shops, the cafe, and Eddie's Ice Cream Counter! Helloooo Huckleberry Ice Cream!  When you see there's a sudden notice to see the Northern Lights, grab a picnic blanket in the cabin and head to Lake McDonald and wait.