Auroras In Northwest, Montana: A Guide to Witnessing This Spectacular Natural Phenomenon
The Northern Lights, also known as the Aurora Borealis, are one of the natural wonders of the world. These stunning displays of lights are often seen in the polar regions. But, did you know that you can also witness them in Glacier National Park? In this blog, we'll explore how and when to see the Northern Lights in Northwest, Montana.
Glacier National Park is located in the northwest corner of the state. GNP is known for its mountain beauty, pristine lakes, and spectacular views and wildlife. The crisp clear night skies also make it an ideal location for viewing the Northern Lights. The best viewing months are usually from October to March.
To have the best chance of seeing the Northern Lights, you'll need to find a location with clear skies and minimal light pollution. Head away from major roads and buildings, and look for wide open areas that offer unobstructed views of the night sky or a great lake view is also an option. Lake McDonald is a perfect choice, and a great choice for photographers.
Once you've found a suitable location, you'll need to wait until the sky is dark. The Northern Lights are most visible from late evening to early morning, so plan to be out late if you want to see them. Keep your eyes on the northern horizon, where the lights will usually appear.
The Northern Lights are the result of electrically-charged particles colliding with the Earth's magnetic field. This produces a colorful display of lights that can range from subtle greens to vibrant pinks and purples. The lights can appear as swirls, curtains, or even flaming arcs in the sky.
There are quite a few forecasting apps you can download that will alert you when the skies are
changing.  This will give you a heads up and time to plan. Check out Aurora Forecast.com
NOAA offers forecasts that go out further than couple of days and if you're a scientist person, you'll love this site.  Click here for their site: NOAA
Remember that seeing the Northern Lights is never a guarantee, even in Montana. However, with a little luck and some planning, you may be able to witness this spectacular natural phenomenon for yourself.
Of course, along with the Northern Lights, Glacier National Park offers plenty of other outdoor adventures to enjoy year-round.
**An important note: we take cleanliness very seriously. We use professional cleaners in between each guests departure and arrival. We provide our guests with the direct phone number to our local property manager to ensure confidence, comfort and cleanliness at both of our locations.
DO  YOU  NEED  A  GREAT PLACE
TO STAY  IN WHITEFISH, MONTANA?
You can visit our sister location, Glacier Bear Condo on Whitefish Mountain. Located, in a true slopeside location you are right on the Tenderfoot ski run. You'll love looking out the kitchen window in the newer construction building and see the ski lift close enough to wave to your family or friends.  And, when we say ski-in ski-out, we mean it! See the pictures!  This mountain modern chalet is a 2 bedroom, 2.5 bath with a private deck and private hot tub. Of course, you'll love the large, open floorplan has all the kitchen amenities you need to cook or use the private grill. The wraparound deck with dining is a great way to enjoy a meal when the weather beckons you.
As a bonus, Glacier Bear Condo is located about 12 minutes from downtown Whitefish, 45 minutes to Glacier
National Park, 45 minutes to Bigfork or Flathead Lake and just 20 minutes to Kalispell.  So, it's an ideal launching point for your vacation. And, there are king beds in each bedroom with a cool built-in bunk for the kiddos in 2nd bedroom.  And, twinkling lights for the top bunker are included!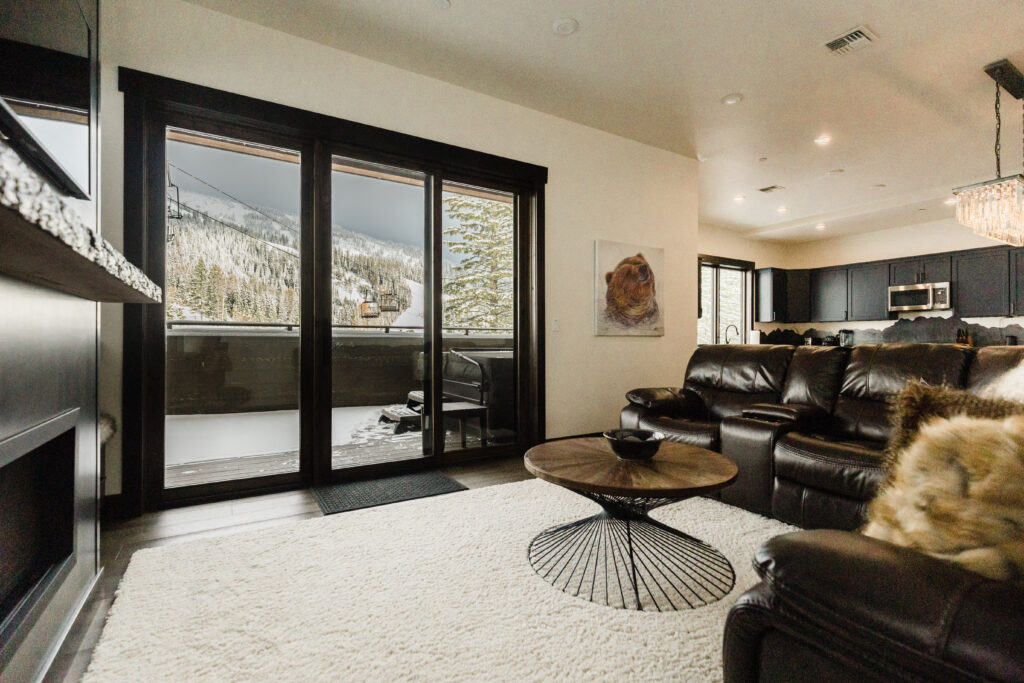 Click HERE for more info on the accommodations and photos.
Of course, you can choose one location or both! **Yes, discounts are available if you want to stay at both properties**