With ski season just opening at Whitefish Resort, it sure seems like it's way too early for us to suggest booking your next Whitefish vacation now.  However, it's time to decide if you want to stay on Whitefish Mountain or stay INSIDE Glacier National Park because many places are booking up.
What are you looking for in a Montana vacation? Would you like to stay on Whitefish Mountain, where fantastic skiing beckons you in the winter. Beautiful trails with wildflowers greet you in the Spring or Summer. Never to be forgotten are the glorious fiery oranges, yellows, or reds with fewer crowds give you space in the Fall. Fall is our hidden happy season so do not underestimate the beauty of Montana in the Fall.
Because of the popularity of our area, we encourage people to book early. Why? Of course, it helps you to get the dates you want and stay where you want.  And, don't forget to book your rental car at the same time. We cannot stress that enough. Rentals do run out!
Are you thinking you want to go inside Glacier National Park but also want to explore Whitefish and further down to Flathead Lake? We have got you covered!
First, we have TWO PROPERTIES.  Glacier Bear Condo is located on Whitefish Mountain and Glacier Bear Cabin is located INSIDE Glacier National Park at Apgar Village. Apgar is at Lake McDonald, so you know that we've got you in the perfect spot to begin your Montana adventures.
And, yes, we've had people stay in both and split their time up to get the best of Northwest Montana.
What are the perks? Oh, I am very happy to share those. First, our 2 bedroom condo location is on Whitefish Mountain. And, it is truly one of the best places to stay in Whitefish, MT.  You can stay any time of year for a short vacation, a long vacation, wedding plans or even engagements. We are right off Chair 3 on Whitefish Mountain so we are truly a ski-in ski-out vacation rental.
But, you do not have to be a skier to enjoy it here! Oh, that is not the case.  Summer and Fall activities on Whitefish
Mountain are as bountiful as the wildflowers. Of course, there is plenty of hiking and mountain biking options with bike rentals available on the mountain. There is zip lining and alpine carts at Whitefish Resort to make your days full of fun and outdoor adventure.
Our location is less than 15 minutes to downtown Whitefish so you are close to the quaint shops, delicious restaurants and Whitefish Lake. You're a short drive to Kalispell and less than an hour to the glorious Flathead Lake in Big Fork. And, you're about 45 minutes to Glacier National Park.
Speaking of Glacier National Park, our cozy Glacier Bear Cabin is waiting for you in a superb location with many perks! We should start out by saying it's a 2 bedroom, 2 bath cabin with a screened in porch, fire pit and on-site parking. (That's big for GNP).
When you stay at Glacier Bear Cabin, you will have complete and unfettered access to The Going To The Sun Road. As long as the weather cooperates and the road is open, you do not have to worry about the vehicle reservation system. Before your arrival, we will give you access instructions. You'll have to get a Park Pass to get into the park. The Going To The Sun Road access is a separate issue. And, we will share that information about 24 hours prior to your arrival.
We have on-site for your unlimited use 3 kayaks, 2 stand-up paddle boards,  2 e-bikes, and 2 mountain bikes. It doesn't get any better!  Why worry about scheduling activities when you can go and do them when you want and when the weather allows.  We ask that you have fun and make memories!
Do you want to take a sunset kayak ride on Lake McDonald? You're all set. Do you want to go for a morning bike ride and listen to Glacier National Park wake up? You're all set. Grab a bike, a helmet and some bear spray and head out on the bike trails that are nearby too. We keep bear spray, bike helmets, backpacks, picnic goodies, towels and blankets inside and ready for your use.
Don and I both remember our vacations each of our families took us on while
growing up. He spent his summer camping and enjoying all the glorious days at Yellowstone. I grew up going to Aspen (When John Denver was the only star there if that tells you anything) with road trips to Utah, Wyoming & Montana. So, the outdoors, wildlife, fun in the snow, activities on the water are all very meaningful to us. And, we want you to make memories like that with your loved ones.
So, please don't hesitate to reach out to us if you have any questions. We love sharing our recommendations and learning about new hot spots in this fantastic area. We are just a short email, text or phone call away. We're here to help make your Montana vacation a truly wonderful adventure.
Book Now or Contact Us With a Special Quote to Stay In Both Glacier Bear Condo & Glacier Bear Cabin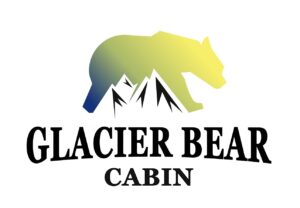 Info@GlacierBearCondo.com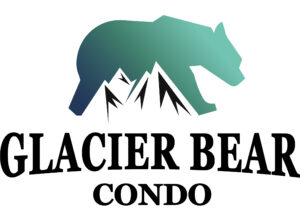 Info@GlacierBearCabin.com