While you're visiting Whitefish or Glacier National Park, be sure to take in the enchanting beauty of Big Fork, Montana and Flathead Lake. Montana is a land of majestic mountains, pristine forests, and breathtaking landscapes that can awe even the most seasoned traveler. Among its countless natural wonders lies a hidden gem – Flathead Lake, a stunning body of water surrounded by picturesque mountains, and the charming town of Bigfork. Of course, you can join us as we embark on a virtual journey. And, you can explore the captivating allure of Flathead Lake and the magical town of Bigfork in Montana.
1. Flathead Lake: A Shimmering Jewel:
Flathead Lake, located in the northwest region of Montana, is the largest freshwater lake west of the Mississippi River. Enveloped by the Rocky Mountains, this shimmering jewel covers a vast area of 191 square miles and extends for approximately 30 miles. In fact, its crystal-clear waters provide an ideal setting for various water activities such as swimming, kayaking, boating, and fishing. Also, you can simply relax on its sandy beaches and soak in the unparalleled beauty of the surrounding landscapes.
2. Outdoor Adventures Galore:
Flathead Lake offers an array of outdoor adventures that cater to every kind of adventurer. In fact, you can take a leisurely cruise
around the lake to marvel at the stunning panoramic views. Furthermore, you can rent a sailboat or a paddleboard for a more intimate experience with the water. Or, fishing enthusiasts can try their luck at catching some of the lake's famous trout. And, hikers can explore the numerous trails that offer breathtaking vistas and encounters with wildlife. Additionally, birdwatchers will delight in spotting over 260 species that call this area home.
3. Bigfork: A Quaint Town with Artsy Appeal:
Located on the northeastern shore of Flathead Lake, Bigfork is a charming and artsy town that perfectly complements the natural beauty that surrounds it. Further, it's known as one of Montana's most picturesque towns. And, Bigfork boasts a vibrant art community with numerous galleries, studios, and theaters. Further, take a sweet stroll through the town's cozy streets lined with boutique shops and cafes. Or, catch a live performance at the Bigfork Summer Playhouse. Of course, you don't want to miss the famous Bigfork Art & Cultural Center. This showcases a wide range of local talent.
4. Delicious Culinary Experiences:
In fact, when visiting Bigfork and Flathead Lake, prepare your taste buds for an unforgettable journey. Indulge in mouthwatering Montana cuisine that showcases locally sourced ingredients. This includes fresh lake fish, juicy huckleberries, and wild game. Additionally, numerous restaurants and eateries in both Big Fork & the surrounding area offer a delightful blend of flavors. In fact, whatever your palate, you'll be satisfied. But, do not forget to try the cherries. Bigfork is known for its cherries. Read more about how special this location is by clicking HERE.
5. Gateway to Glacier National Park:
Flathead Lake and Bigfork serve as an ideal gateway to Glacier National Park. Of course, GNP is one of America's most beautiful natural treasures. And, just a short drive from Bigfork, is this enchanting national park that offers majestic mountains, glaciers, and dramatic landscapes. It's undoubtedly a nature lover's paradise. Actually, you can enjoy the iconic Going-to-the-Sun Road, hike amidst alpine meadows, and encounter diverse wildlife, including grizzly bears and elk.
Conclusion:
Flathead Lake and Bigfork, Montana, offer an unforgettable experience for those seeking pristine natural beauty, outdoor adventures, vibrant arts scenes, and access to Glacier National Park. So, whether exploring the lake's crystal clear waters, soaking in the artsy charm of Bigfork, or discovering the wonders of Glacier National Park, this corner of Montana undoubtedly leaves a lasting impression of awe and admiration. Indeed, you'll need to plan your visit to Flathead Lake and Bigfork. And, prepare yourself for an extraordinary journey into the heart of nature's beauty.
**An important note: we take cleanliness very seriously. We use professional cleaners in between each guests departure and arrival. And, we provide our guests with the direct phone number to our local property manager to ensure confidence, comfort and cleanliness at both of our locations.
If you're ready to book your vacation on Whitefish Mountain, click the Book Now link above.  This page may take an extra few seconds to load as it is connecting to our booking site with calendar to choose your dates.
DO  YOU  NEED  A  GREAT PLACE
TO STAY  IN WHITEFISH, MONTANA?
You can visit our sister location, Glacier Bear Condo on Whitefish Mountain. Located, in a true slopeside location you are right on the Tenderfoot ski run. You'll love looking out the kitchen window in the newer construction building and see the ski lift close enough to wave to your family or friends.  And, when we say ski-in ski-out, we mean it! See the pictures!  This mountain modern chalet is a 2 bedroom, 2.5 bath with a private deck and private hot tub. Of course, you'll love the large, open floorplan has all the kitchen amenities you need to cook or use the private grill. The wraparound deck with dining is a great way to enjoy a meal when the weather beckons you.
As a bonus, Glacier Bear Condo is located about 12 minutes from downtown Whitefish, 45 minutes to Glacier
National Park, 45 minutes to Bigfork or Flathead Lake and just 20 minutes to Kalispell.  So, it's an ideal launching point for your vacation. And, there are king beds in each bedroom with a cool built-in bunk for the kiddos in 2nd bedroom.  And, twinkling lights for the top bunker are included!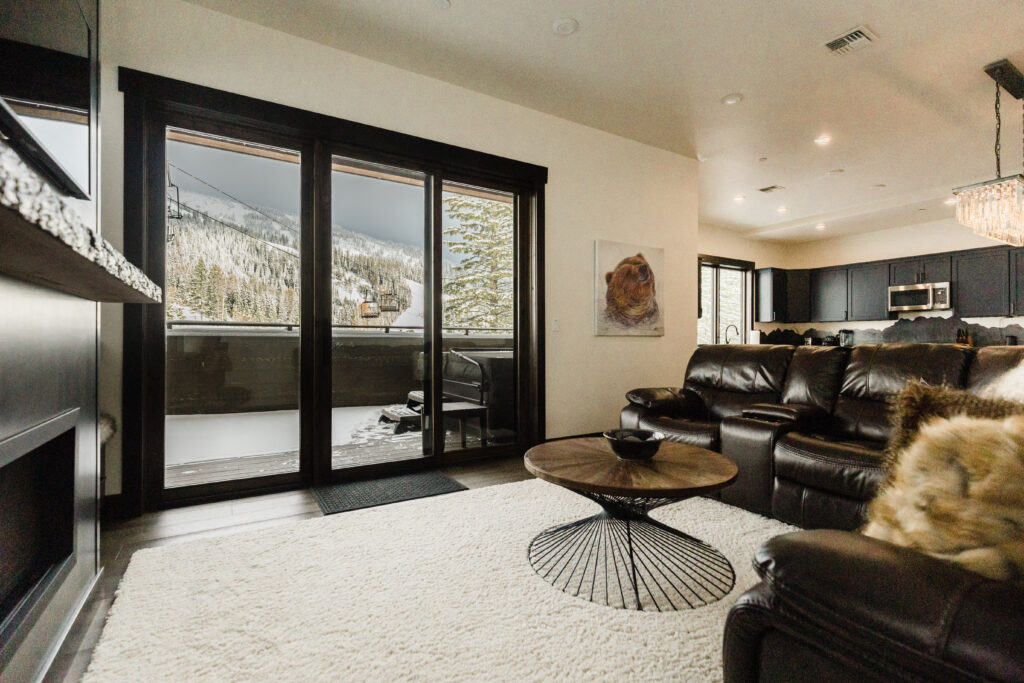 So, click HERE for more info on the accommodations and photos.
Of course, you can choose one location or both! **Yes, discounts are available if you want to stay at both properties**