Nestled in the heart of Glacier National Park in Montana, Lake McDonald is a natural wonder that captivates the senses with its breathtaking beauty.  Moreover, its crystal-clear turquoise waters reflect the towering peaks of the Rocky Mountains. You'll find that this iconic lake has become a popular destination for nature lovers, adventure enthusiasts, and serenity seekers alike. Here, we'll dive into the enchanting world of Lake McDonald and discover why it is a must-visit destination. Remember, Glacier Bear Cabin is a mere short stroll away to the Lake.
1. Natural Marvels:
Stretching over 10 miles in length and nearly 500 feet deep, Lake McDonald is the largest lake in Glacier National Park. Carved by massive glaciers during the last Ice Age, its pristine waters originate from the surrounding snow-capped peaks, creating a stunningly picturesque backdrop. Also, the lake is also surrounded by dense forests of cedar, pine, and hemlock, adding to its natural splendor.
2. Recreational Activities:
Lake McDonald offers a plethora of recreational activities that cater to all kinds of adventure seekers. Whether you enjoy hiking, fishing, kayaking, or simply relaxing on the shore, there is something for everyone. The lake is home
to various species of fish, including native west slope cutthroat trout, making it a paradise for anglers. Additionally, the park offers hiking trails that lead to mesmerizing viewpoints, such as the Trail of the Cedars and Avalanche Lake. And, don't forget that when you stay with us at Glacier Bear Cabin, you'll have mountain bikes, e-bikes, stand up paddleboards and kayaks on-site for you to use anytime during your stay.
3. Historic Lodges:
A historic landmark, the Lake McDonald Lodge is a popular attraction on the lake's shores. Built in 1913, the lodge showcases a rustic charm that takes visitors back in time. Its Swiss chalet-style architecture, combined with breathtaking lake views, stroll inside for a walk back in time.
4. Wildlife Encounters:
Glacier National Park is renowned for its diverse range of wildlife, and Lake McDonald is no exception. Keep your eyes peeled for frequent sightings of bald eagles, osprey, and other birds soaring above the lake's surface. Wolves, bears, mountain goats, and elk also call the park home. So, it's not uncommon to spot them during your visit. Remember to maintain a safe distance and respect their natural habitat.
5. Sunset Magic:
One of the most enchanting experiences at Lake McDonald is witnessing the vivid colors of a sunset reflected in the still waters of the lake. And, as the sun dips below the horizon, hues of orange, pink, and purple paint the sky, creating a mesmerizing spectacle. So, make sure to grab a camera and capture this magical moment that will leave a lasting impression.
Lake McDonald is a hidden gem that offers a magical combination of natural beauty, outdoor adventures, and tranquility. Whether you are seeking a true adventure or simply yearning for a peaceful escape into the wonders of Mother Nature, this idyllic lake will touch your imagination. So, plan your visit to Lake McDonald, and prepare to be in awe of its incredible vistas and peaceful ambiance.
Don't forget, when you stay with us, you will have access to the Going To The Sun Road. You will only need a park's pass inside GNP. We will give you access information just prior to your arrival.
Certainly, you don't forget to visit our Glacier Bear Cabin page with direct links to the National Park site of recommendations, events and any closures.
**An important note: we take cleanliness very seriously. We use professional cleaners in between each guests departure and arrival. We provide our guests with the direct phone number to our local property manager to ensure confidence, comfort and cleanliness at both of our locations.
DO YOU NEED A PLACE NEAR WHITEFISH?
VISIT OUR SISTER LOCATION ON WHITEFISH MOUNTAIN – GLACIER BEAR CONDO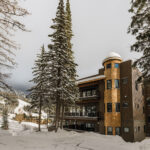 Remember, we have a stunning 2 bedroom, 2.5 bath condo located on Whitefish Mountain if
you need a location closer town – or bigger.  Only, 10 minutes from downtown and a scenic 45 minute drive to Glacier National Park, it's a great place to stay in Whitefish! And, it's about 45 minutes to Big Fork and Flathead Lake. Of course, there are lots of fun activities on Whitefish Mountain during the summer like ziplining, alpine carts, hiking, mountain biking and riding the chair lift. If you'd like to learn more about Glacier Bear Condo, click HERE or visit https://GlacierBearCondo.com