Stand up paddleboarding (SUP) is a fun and easy-to-learn water sport that is quickly growing in popularity. Whether you're looking to explore calm lakes and rivers or ride waves down at the beach, a stand-up paddleboard can provide hours of fun and relaxation. In this blog, we'll take a look at some basic tips for using a stand-up paddleboard.
Remember, when you stay at Glacier Bear Condo, we have 2 SUP's on-site for our guests to use anytime during your stay. And, we have 3 kayaks, 2 e-bikes and 2 mountain bikes for our guests to use too. (Oh, did we mention free ice cream coupons? It's true!)
When you stay at Glacier Bear Cabin, we want you to make memories, not worry about activity reservations and the weather. We want you to have great gear on-hand to use anytime it fits YOUR schedule!
Now, on to the fun of learning.
1. Getting Started: Before heading out on the water, make sure you have all the necessary gear, including a paddle, a personal flotation device, and appropriate clothing for the conditions. If you're new to SUP, it's a good idea to take a lesson or practice in calm water before attempting more challenging conditions.
2. Getting on the Board: Begin by kneeling on the board, placing your hands on the board in front of you. Slowly stand up, one foot at a time, keeping your feet shoulder-width apart and your knees slightly bent. Maintain a low center of gravity and use your paddle for balance.
3. Paddling: Hold the paddle with both hands, keeping your grip shoulder-width apart. Extend your arms straight out in front of you and place the paddle in the water at an angle. Pull the paddle towards you, using your core muscles to generate power. Switch sides with each stroke to maintain balance.
4. Turning: To turn the board, simply paddle on one side while turning your torso in the opposite direction. You can also use a
back paddle (paddle backwards) to turn the board.
5. Stopping: To stop the board, simply paddle backwards and allow momentum to slow down. And, if necessary, drop to your knees and use your hands to grab the board or anchor yourself with your paddle.
6. Balance: Maintaining balance is key to paddling efficiently. Of course, you'll want to keep your feet shoulder-width apart and slightly bend your knees. Look straight ahead instead of down at the board, and engage your core muscles to stabilize your body.
7. Safety: Always wear a personal flotation device (PFD) and avoid venturing into hazardous conditions. Stay aware of other watercraft and weather conditions, and practice Leave No Trace principles to minimize your impact on the environment.
By following these basic tips, you can get started on your own SUP adventure.
DO  YOU  NEED  A  GREAT PLACE
TO STAY  IN WHITEFISH, MONTANA?
You can visit our sister location, Glacier Bear Condo on Whitefish Mountain. Located, in a true slopeside location you are right on the Tenderfoot ski run. You'll love looking out the kitchen window in the newer construction building and see the ski lift close enough to wave to your family or friends.  And, when we say ski-in ski-out, we mean it! See the pictures!  This mountain modern chalet is a 2 bedroom, 2.5 bath with a private deck and private hot tub. Of course, you'll love the large, open floorplan has all the kitchen amenities you need to cook or use the private grill. The wraparound deck with dining is a great way to enjoy a meal when the weather beckons you.
As a bonus, Glacier Bear Condo is located about 12 minutes from downtown Whitefish, 45 minutes to Glacier National Park, 45 minutes to Bigfork or Flathead Lake and just 20 minutes to Kalispell.  So, it's an ideal launching point for your vacation. And, there are king beds in each bedroom with a cool built-in bunk for the kiddos in 2nd bedroom.  And, twinkling lights for the top bunker are included!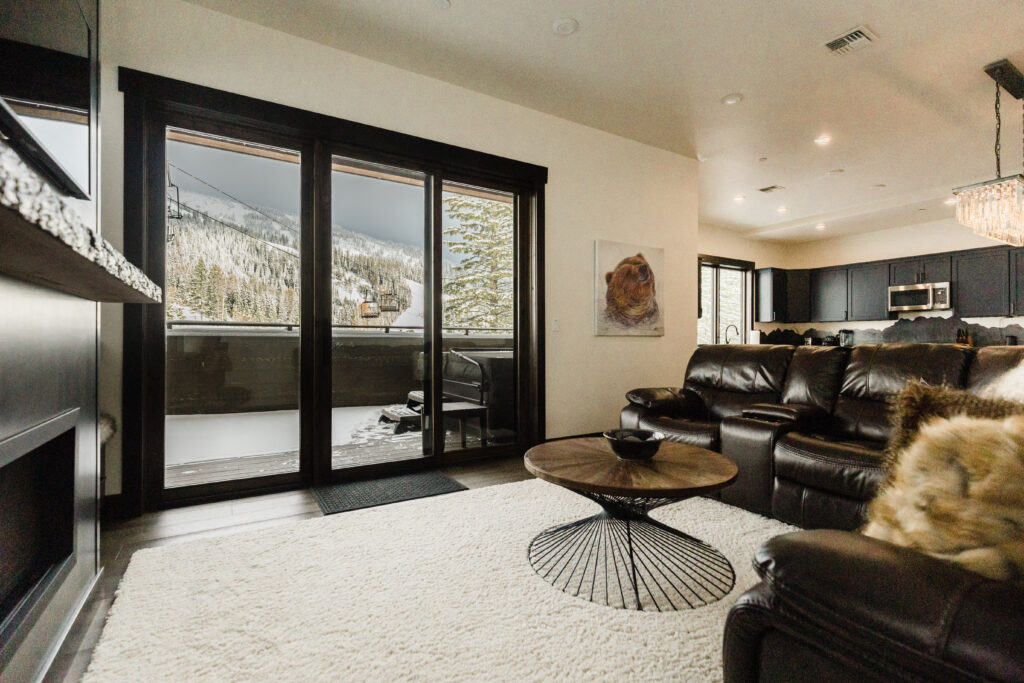 So, click HERE for more info on the accommodations and photos.
Of course, you can choose one location or both! **Yes, discounts are available if you want to stay at both properties**