As autumn approaches in Glacier National Park, the temperatures begin to drop and nature reveals its magical transition. Actually, the vibrant colors and beautiful displays of foliage, there will be one tree that stands out. And, that is the tamarack tree.  Also, it's known as the
American Larch. With its golden hues and unique characteristics, tamaracks offer an unrivaled beauty and contribute greatly to the biodiversity of our ecosystems.  And, you can join us as we explore the captivating world of tamarack trees in this blog post.
1. Tamaracks: An Overview
The tamarack tree (Larix laricina) is a native coniferous species found in North America, particularly in moist, northern forests. And, unlike most evergreen trees, tamaracks are deciduous and will shed their needle-like leaves every fall. They are the only deciduous conifer species native to North America. Obviously, this makes them truly one-of-a-kind.
2. Autumnal Transformation
The most wonderful aspect of tamarack trees is the beautiful show they put on during the fall season. As temperatures drop, the tree's soft, green needles will change into a brilliant golden hue. What's more, this creates a beautiful display of color. Here, you can witness the transformation of a tamarack forest. And, that is truly a sight to see. Also, it's a reminder of nature's ability to inspire. When you come to Glacier in the Fall, you'll see two seasons of Fall. You can see Aspens gold colors first. And, then you can be witness to the Tamarack color change.
3. Habitat and Ecology
Tamaracks grow very well in wetlands and swamps and will thrive in areas with high moisture content. These trees play a crucial role in maintaining the health of these ecosystems. They stabilize soil, prevent erosion. And, they also provide food and shelter for a diverse range of flora and fauna. Additionally, tamaracks are known for their ability to endure harsh conditions. This makes them an important component of northern forests.
4. Unique Adaptations
Apart from their deciduous nature, tamarack trees possess several other interesting facts. For instance, their branches become flexible in winter. This allows them to bend under heavy snow instead of breaking. This adaptation helps the tree avoid damage and ensures its survival in harsh winter conditions. Isn't that amazing?
5. Traditional and Modern Uses
Throughout history, indigenous peoples have used various parts of the tamarack tree for medicinal and practical purposes. From its bark to its resin, tamaracks past uses include teas, treating coughs and colds, and making baskets and canoes. Today, the wood of the tamarack tree is renown for its durability. You can find tamarack wood in construction, cabinetry, and woodworking.
The tamarack tree carries such unique traits. Their Fall transformation, and ecological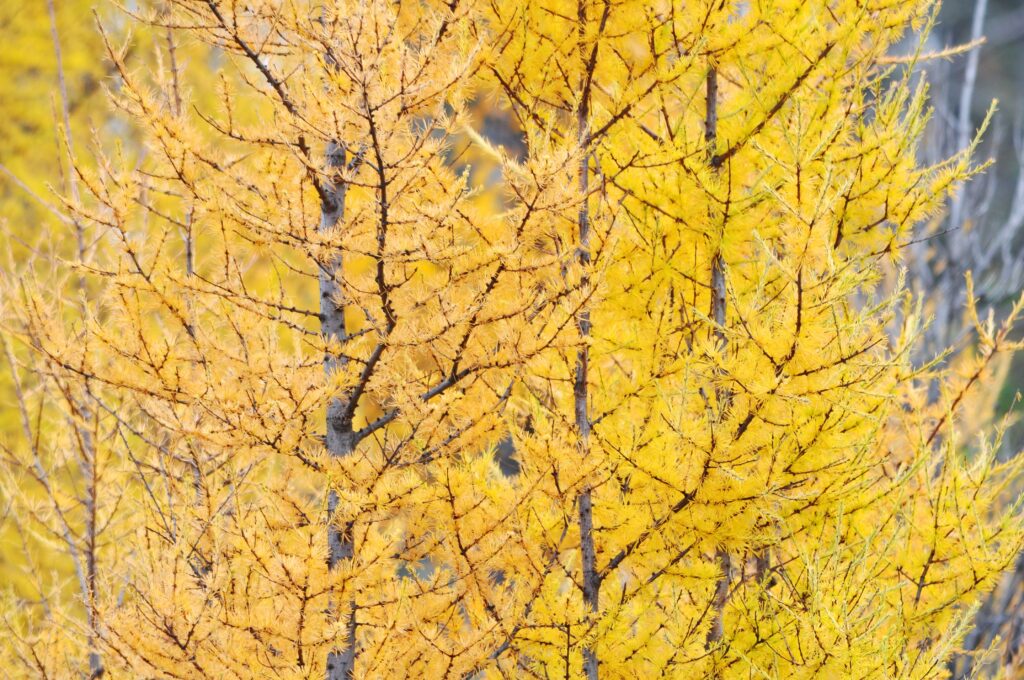 importance make it a true gem of North America's forests. As we witness the golden changes each autumn, let's appreciate the beauty and value that tamarack trees bring to our natural scenery.
So, the next time you find yourself surrounded by tamaracks, take a moment to marvel at their beauty and give thanks for the wonders of nature.
DO  YOU  NEED  A  GREAT PLACE
TO STAY  IN WHITEFISH, MONTANA?
You can visit our sister location, Glacier Bear Condo on Whitefish Mountain. Located, in a true slopeside location you are right on the Tenderfoot ski run. You'll love looking out the kitchen window in the newer construction building and see the ski lift close enough to wave to your family or friends.  And, when we say ski-in ski-out, we mean it! See the pictures!  This mountain modern chalet is a 2 bedroom, 2.5 bath with a private deck and private hot tub. Of course, you'll love the large, open floorplan has all the kitchen amenities you need to cook or use the private grill. The wraparound deck with dining is a great way to enjoy a meal when the weather beckons you.
As a bonus, Glacier Bear Condo is located about 12 minutes from downtown Whitefish, 45 minutes to Glacier National Park, 45 minutes to Bigfork or Flathead Lake and just 20 minutes to Kalispell.  So, it's an ideal launching point for your vacation. And, there are king beds in each bedroom with a cool built-in bunk for the kiddos in 2nd bedroom.  And, twinkling lights for the top bunker are included!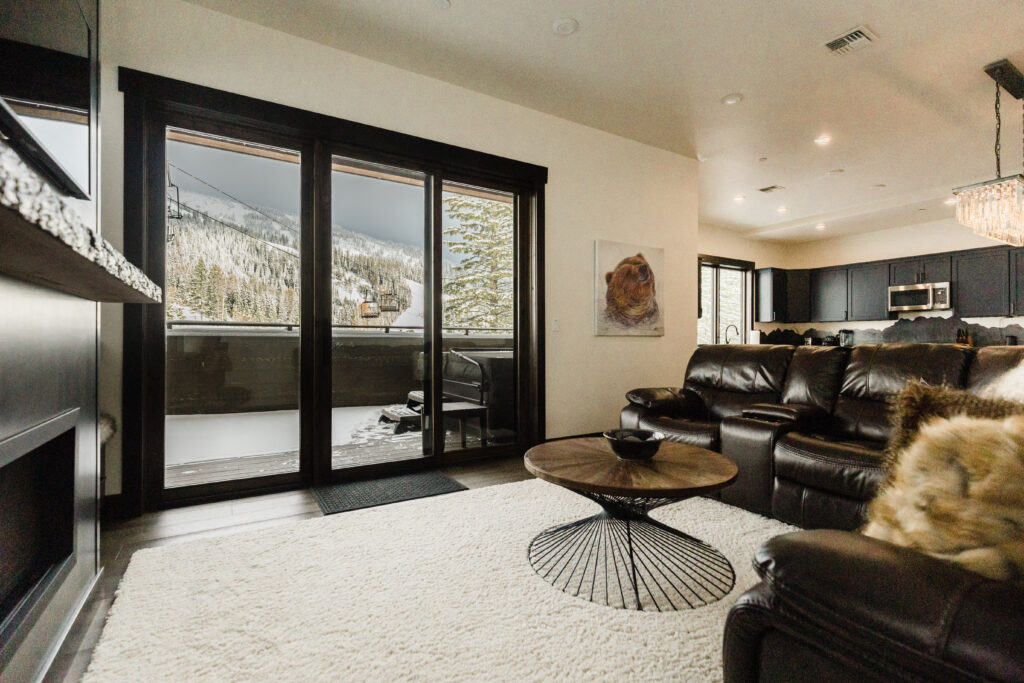 So, click HERE for more info on the accommodations and photos.
Of course, you can choose one location or both! **Yes, discounts are available if you want to stay at both properties**